Our Hosts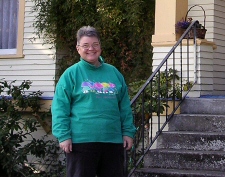 The people who host for ABODE reflect the diversity of our region. They are young families and single parents, retired couples and single people. They come from a variety of ethnic and socio-economic backgrounds. What they have in common is an interest in other cultures and a willingness to share their homes with international visitors. We hope that you will be open to the fun and challenges of living in a new culture!
All our hosts go through a careful screening process:
Hosts complete a detailed application form.
They attend an orientation meeting.
We visit their home and verify all living spaces, the family's lifestyle, and general upkeep.
We check their references and verify their eligibility as hosts with a background check.
We communicate with hosts to help them adjust as new homestay hosts.
Although we are committed to making appropriate and comfortable homestay matches, we cannot accommodate requests for hosts of a specific racial background, of a specific religion, with a specific number of children, or any other characteristic. We will do our best to ensure an enjoyable and safe homestay, but please be prepared to experience, learn about, and enjoy the American cultural diversity.